Professional Resources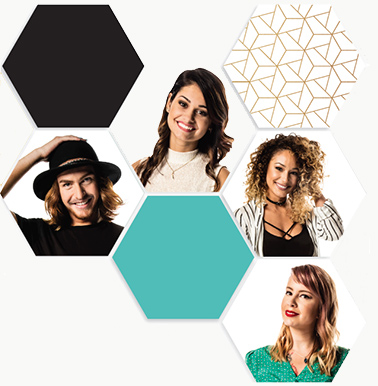 ---
Multi-channel shopping
Cosmo Prof is the largest distributor of salon professional brands in North America.  As such we offer multiple ways our customers can engage with us:
Over 1,100 stores across the United States, Canada, and Puerto Rico
Online shopping with over 150 brands and 27,000 products across all categories and so much more
Salon consultants who assist busy salon owners with promotional planning, retail sales, new brands and innovative service-related recommendations

Discover the Cosmo Prof App, the App for the Modern Stylist

Finally, get inspired and engage with other stylists on our social channels:
---
Business building resources
Owning a salon is challenging and rewarding. Within our Blog we have published several business building articles with a range of topics to help you maximize your business.
Promotional planning
Retailing
Salon service planning
Salon design and equipment
Barbering
Trends and techniques for the latest hair and nail styles
Brand based planning and ideas
---
Problem/solution oriented products
We all want to leave the salon looking and feeling our best. Individual needs differ and can exceed routine maintenance.  As a salon professional, your ability to assess and address problems requires technical skills, listening skills and the right products.  Cosmo Prof and its Brand partners have a huge assortment of solution-oriented products formulated to help solve the most common dilemmas.  A few examples include:
Problem:  Thinning Hair.  Suggest products that create a healthy environment for hair growth; Concealers to help mask hair loss; Hair Fibers; Color with gray coverage
Problem: Managing Texture. Smoothing systems; keratin; humidity resistant styling; preventing breakage
Browse our online Digital Library for technique videos related to complex treatments.  In collaboration with Brand educators our goal is to bring you rich content designed to prepare you to meet the needs of your clients.  These techniques are professional only videos, just for you, and FREE.
---
Salon 101
If your goal is to own your own business, there are some differences to each salon ownership scenario.  Understanding your obligations will help you be prepared for your responsibilities.  Here are a few:
Owning your own branded salon business (strip center)

Operating a franchised chain salon

Salon Suite Operator in tenant/multi-suite building

Upfront costs

$$$$

$$$$$

$$-$$$

Property and common area maintenance fees (CAMs)

x

x

May be rolled into
lease /rent

Staffing

x

x

Optional

Brand assortment

Your choice

Owner guided

Your choice

Retailing take-home product

Your choice

Owner guided

Your choice

Marketing

x

Owner guided/funded

Your choice

Supplies

x

x

x

Branding

Your choice

Owner guided

Your choice

Scheduling

x

x

x

Hours

May be subject to shopping center regulations

Owner guided

Flexible

Equipment/furnishings

x

x
May be included in franchisee package

x
In unique cases
may be provided

Deliveries

Backdoor receiving

Backdoor receiving

If closed,
alternative needed

Cleaning Crew

x

x

Self
The above is a general overview of the commitments for each scenario.  Owners must also understand state, city and local requirements around safety compliance, insurance, fair business practices, and the like.  All of these responsibilities can translate into fees.  Know your responsibilities and budget accordingly.
---
Salon furnishings and equipment
Creating an inviting atmosphere is important for client comfort. Lighting, reception, music and color are important elements, and when your clients are in the chair you need workstations that facilitate privacy, comfort, relaxation and service ease.
Our salon design consultants are trained to help you assess the needs of your business based on your service types. Choose from thousands of items in all equipment categories, with good-better-best concepts that appeal to both budget conscious salon operators and those ready to upgrade to higher end design.  Whatever your choices we will guide you through the process for a result that is personalized and invites clients back again.
Our goal is to provide customers with a one-stop shopping experience from a name they can trust. With a long-standing track record of providing quality products and service, our program continues to set the standard in the industry.  Browse industry-leading brands in the equipment category with warranties and fast delivery.
Some of our partner brands: Pibbs, Puresana, Modern Elements, Footsie Bath, Belvedere, Collins, Kayline just to name a few!
Browse equipment for your salon here: www.cosmoprofequipment.com or check out our Salon & Spa Equipment catalog. Lease Financing programs are available to help you create the salon of your dreams.
For space planning assistance, please contact a Salon Design Consultant today.  Call (800) 362-3186, Option 3 or email us at salondesigncenter@cosmoprofbeauty.com.
---
Managing a business
In addition to the general responsibilities compared in the section Salon 101 above, additional points to consider are explained in detail in the attached guide:
Your local small business development center can provide resources needed to open a salon.  When visiting salons take notes about what you see.  Salons have front of the house and back of the house operations, both of which have unique functions that must come together for optimal efficiency.
Having established standards and procedures will ensure predictability over time for you and your team, and will translate into a consistent experience for your clients.  Do your homework!
Read more: case study regarding opening a salon
---
Retailing: Beyond the service
There are several ideas for salons to maximize its investment in products.  Offering take-home products that aligns with the services offered in your salon can increase revenue nicely.  Consider also that if clients are purchasing retail products from you we are keeping them away from diverters and counterfeits.
Attractive displays with a broad assortment offered at the point of purchase encourage your clients to browse retail items where it's most convenient.  Let them smell and sample product for maximum exposure.  Make sure to tell your clients what products were used during their service and offer the same in a retail sizes so your clients can continue enjoying them at home.
Tip for recommending products to your clients:
Browse the Blog for additional in depth articles related to how Retailing can help your clients look good until they see you again.
---
Education and earning CEUs
Learning is rewarding and will help you sharpen your skills and learn new ones.  Your state may also require additional credits when you renew your license.  Cosmo Prof offers several options for learning:
Online video-based learning
Online classes for continuing education units (CEUs) for credit
Show-based classes
In-store classes (over 200 locations)
In-salon learning customized for your team
Manufacturer educator training
Connect with our Education team today for more information on how to take advantage of any of these options.
---
Beauty industry shows
Cosmo Prof hosts shows in multiple cities across the United States and Canada.  Manufacturers across all categories have a larger than life show presence.  Their product teams demonstrate new products, and platform artists inspire attendees by demonstrating techniques for the latest color and style trends.
Curious?  Watch this video to get a glimpse at what it's like to attend one of our exciting shows!
Cosmo Prof presents Fashion Focus and Spring Style Shows.  Click each image for additional details or locate a show near you:  http://www.cosmoprofbeauty.com/showsandevents
---
Cosmo Prof Careers
Beautiful Careers start here.
To explore careers at Cosmo Prof,read more about who we are and what it's like to work for the largest distributor in North America.  We have 1,100+ stores, a team of salon consultants, warehouse operations, and corporate teams passionate about bring inspiration to you. To apply for a position click here.
We hope you found the above enlightening and informative. If you have any questions regarding something we didn't cover, please reach out to us for assistance. We'd love to help.
Your Cosmo Prof Team
false
2000