Preparing for Cosmetology School
Below are some topics to help you make critical decisions for your education and to prepare you for your career. Click on the topics below to read more.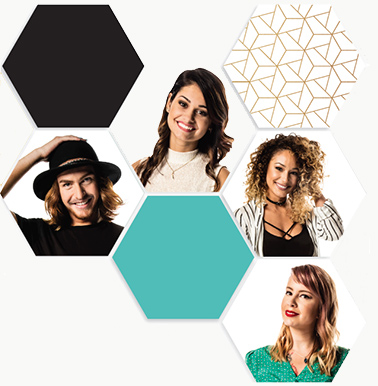 >
The evolution of beauty and your role in it
>
Choosing a Cosmetology School
>
Exploring your creativity and vision
>
Understanding salon service types
>
Frequently Asked Questions
---
The evolution of beauty and your role in it
Congratulations on choosing a cosmetology career, one that is highly creative and where you can set the pace for your success.  Below are resources to help you choose the school best suited for you and to help set expectations for what to expect while getting your education.  But, before we jump into the educational and professional resources to help guide you, check out these beauty milestones.  Cosmetology was born centuries ago!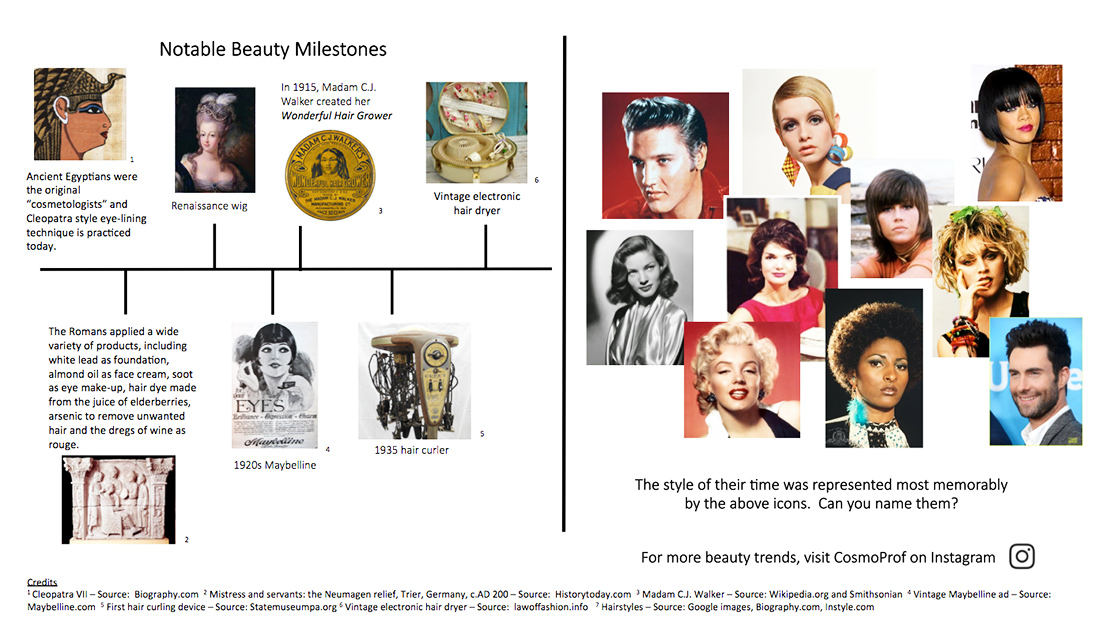 ­­
---
Choosing a Cosmetology School
Before enrolling in Cosmetology School there are several things to consider to ensure the choice you make suits your life and sets you up for a successful academic journey:
Choose a school that meets the Department of Education's standards. Choosing an accredited school will give you assurance that you will receive a well-rounded education.  Some states have unique requirements around this, so make sure you know where they stand before enrolling.
Consider the program flexibility and location.  The more choices you have that allow you to maintain other commitments in your life, the more apt you will be to continue the program through completion.  Also consider whether the school allows advanced, focused learning in an area of interest so you can begin developing your specialty.
Is financial aid available?  Cosmetology school can have fees exceeding $10,000.  There may be options to help make that fee a more achievable investment.  Explore the Beauty Changes Lives scholarship opportunity!
How much hands-on experience will you gain?  If a school program gives you the ability to execute learned techniques on real people you will improve your transition from academics to real world. 
Schedule time with advisors and instructors to understand their style and to gain valuable insight into what your education will be like.  Talk with former students.  Visit the schools website and social media pages.  The more you know the more realistic your expectations.
Find out if your school works with local salons to assist with job placement.  You can benefit from leads provided by schools who have established salon relationships once you graduate.
Use the resources below to research more about schools, scholarships and grants, and other professional organizations.
| | | |
| --- | --- | --- |
| Beauty Industry Organizations | Resource Type | Website |
| American Association of Cosmetology Schools (AACS) | Education and affiliate resource | http://beautyschools.org |
| Beauty Schools Directory | Schools by State | |
| Beauty School Network                  | Career Path Guidance | http://www.beautyschoolnetwork.com/career-paths-beauty-industry |
| Empire Beauty Schools | School website | |
| Paul Mitchell Beauty Schools | School website | |
| College Grants | Education financial support | |
| First Chair | New Professional Resource | |
| American Beauty Association | Industry Shows/education | |
| Solo Artist | Independent stylists resource | |
| Modern Salon Events | Education Calendar for industry participants | |
---
Exploring Your Creativity and Vision
You have chosen cosmetology because you want to express your creativity.  The beauty industry offers several areas of focus, each with the opportunity to become specialized. Live out your dreams and reach with your imagination, as a career in the beauty industry encourages skill building, trend setting, and creating a salon experience for your clients that is uniquely yours. 
If that isn't motivating enough, you may find the most rewarding aspect of a cosmetology career is having a positive impact on your client's self-image and knowing you have the ability to change lives. 
---
Understanding Salon Service Types
Below are the most common career paths in beauty:  Each specialty is creative and exciting, so you should determine what is most interesting to you.  You may have already discovered your abilities which has driven you to take the leap, so find a school that offers a program in your area of interest.
Cosmetology – Hair cutting, Hair Styling, Make-up Application
Barbering
Nail Technology
Electrolysis
Esthetics
Natural/Homeopathic Hair and Skin Care
---
Frequently Asked Questions
Q:    Do I need to establish credit to apply for school?
A:    Credit may not be necessary in all cases, but the terms of your student loan may be improved with a positive credit standing

Q:    What are minimum education requirements for being accepted to beauty school?
A:    High School Diploma/GED

Q:    Typically, how is a student loan repaid?
A:   Most educational loans are on a payback program once you have earned your license.  Loan repayment is based on the lending source, term of your loan and whether you have obtained grants/scholarships that offset the costs.  The details of your loan should be reviewed thoroughly with your lender.

Q:    Can students schedule salon tours to become more familiar with salon operations?
A:    Yes!  Salons love to answer questions for students coming into the industry.  Talk to stylists in the salon to find out how long they've been there, why they chose their salon, and learn more about the experiences they have had. Interview the salon owner while you are interviewed to gain insights into how they work and to see how you'll fit in.

Q:    How many months per year do most schools operate?
A:    12 months is standard.  Also, most schools provide day and evening programs.

Q:    What supplies are typically required for new students?  Are they included in my tuition?
A:    Each school will have its own unique requirements per semester.          



false
2000